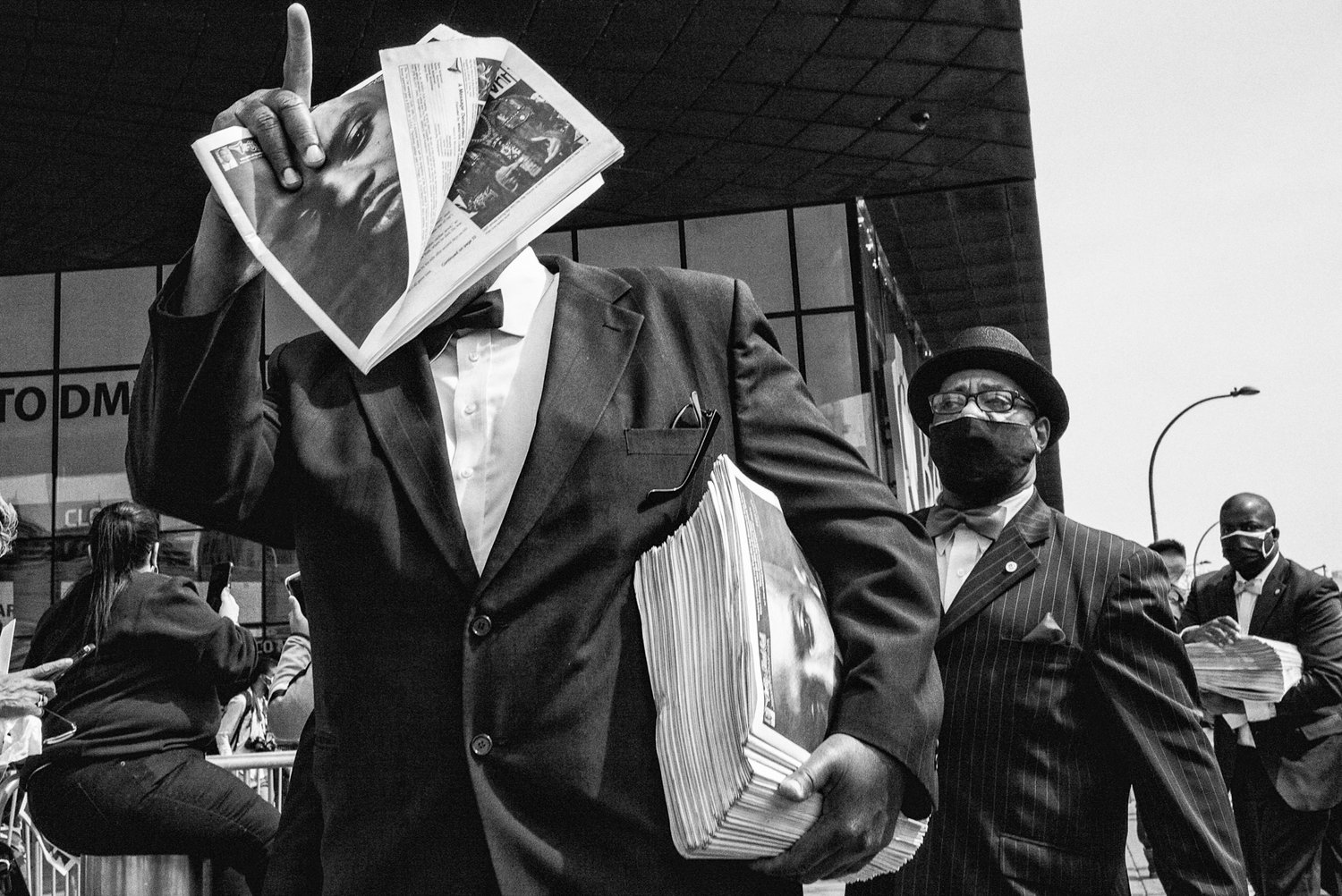 Seeing Ourselves In The Street: Online Photography Workshop (Sept/Oct 2023)
Street photography is an improvisation, performed in long hours of wandering alone on foot, guided by the scent of great human character and fragility, poetic physical gestures of emotion or energy, explosions of life force, momentary chance encounters, and quiet interactions which imply subjective stories when stopped in time. The resulting unparaphrasable pictures may leave unanswerable questions in the viewer's mind, and provide us with a venue for healing our sense of separation from others, the feeling of being apart, rather than a part. In this six week class we'll use a stream-of-consciousness approach to shooting, editing, and sequencing the work, looking past our assumptions of "aboutness" or the factual burdens of documentary practice, yet eschewing the overly predetermined conceptual mandates of so many fine art dogmas.
Through weekly presentations, assignments, and group editing, we'll make and share new work, and explore what makes our photographs stronger, more personal, and more musical, whether you've been shooting for years, or just getting started. Participants will all be expected to have at least a basic working knowledge of whatever camera they plan to use, and are able to edit and transfer their images by computer each week.
This six-week class will meet four Tuesdays in September (5th, 12th, 19th, 26th), and two Tuesdays in October, (3rd, 10th) each from 6-9pm Eastern US time, and is limited to 6 participants. (SPECIAL NOTE: THE OCT 10 SESSION WILL BEGIN 30 MINUTES LATER, at 6:30PM EASTERN) Reserve your space today by choosing the option (below) to pay a 50% deposit.* One may also choose to pay in full up-front. The group meetings will take place Entirely on Zoom. *balance due one week before the first class.
Some recent student testimonials:
"'Seeing Ourselves in the Street' was a fantastic learning experience! Reuben's passion for sharing his broad and deep knowledge of the photographic arts was inspiring. He created an egalitarian environment where it felt safe to present my work, always seeking to leverage the learning from the images whether they succeeded or failed. He intuitively knew what was needed to support my development as a photographer, offering either words of encouragement and/or straightforward feedback in the right amount at the perfect time. Each week, he would introduce us to one or more photographers who stretched my thinking of what's possible. Along with his students, he shared the photographs he had taken that week, thereby humanizing himself in my eyes and illustrating his ongoing commitment to his own learning. It was an honor and privilege being taught by Reuben. I left the workshop feeling supported and championed! Whether you are a novice or an experienced photographer or anything in between, you will undoubtedly benefit from being a part of Reuben's learning community." Deborah C., Toronto, CA
----------------------------------------------------------------------------------------
"Reuben's cross disciplinary approach which synthesizes his passion for imagery with a love of music and philosophy resonated strongly for me in choosing to participate in this workshop, the theory of which delivered richly in its execution into practice. In applying the theory to intense, iterative critique sessions of work produced weekly by participants and by Reuben, as well as to historical foundational photographic work of others, the workshop had a holistic, collaborative feel in which I felt fully immersed. Most importantly, the theory uncovered a new vocabulary in my vision and photographic approach, and I have come away from the experience with both a firm belief that I have advanced my craft in a meaningful way and a satisfying body of work produced during the course of the workshop." -Alfred B, New York, NY
----------------------------------------------------------------------------------------
"Taking the class was one of my best decisions - Reuben is highly skilled at teaching in a warm environment, imbuing his lengthy knowledge on others to make them better - to open their eyes to what's possible. I highly recommend Reuben's class to anyone from a beginner to professional that just wants to expand their creative eye and learn new ideas and how the environment affects their art." -Rebecca M, Los Angeles, CA
----------------------------------------------------------------------------------------
"What a great experience, on so many levels! ...a wonderful conversation in images among photographers sharing a common interest and enthusiasm but communicating their visions in unique ways. Reuben is the perfect facilitator and guru- sharing his own work from the week with us and offering wise critique and enthusiasm, all in the spirit of mutual learning. Highly recommended!" -Mark C, Atlanta, GA
----------------------------------------------------------------------------------------
"Reuben's "Seeing Ourselves in the Street" workshop was three days well spent. Reuben lives and breathes street photography and can talk at length about its technical, aesthetic, and ethical issues while remaining engaging, funny, and enlivening throughout. He is an incisive critic, with a sharp eye for both virtues and flaws in a photograph that the photographer—well, this photographer—may have overlooked, and holds participants to high standards while always staying open-minded and encouraging. I would recommend his workshop without reservation." –Edward H., Brooklyn, NY
----------------------------------------------------------------------------------------
Bio:
Reuben Radding is a photographer, musician, writer, and teacher based in New York City whose photos have been published in the New York Times, Rolling Stone, Hamburger Eyes, Downbeat, Financial Times, Maxim, High Times, and many other publications, and has been exhibited widely in North America and Europe. Radding received his MFA in Interdisciplinary Arts from Goddard College, and has taught workshops or been a guest lecturer at The International Center for Photography, New York University, The New York Institute of Photography, SOCAPA, and in his own private studio.